COMMERCIAL FOAM ROOFING SERVICES IN NORTHERN CALIFORNIA
Commercial Foam Roofing


Cool roof solutions
Weather conditions are always unpredictable for homeowners in Sacramento, CA. One day it's sunny, and the next it's rainy. That's why it's important to have a roof that can withstand all weather elements. 
Foam roof solutions is the way to go for this scenarios. Installing this type of roof can keep your property protected from the elements no matter what the weather throws at you. At Cool Roof Solutions, we provide top-quality commercial roofing services in Sacramento, CA, using only the highest quality materials. 
Our technicians are experts in the field with many years of experience and expertise. You can rest assured we'll keep your property's roof looking great and functioning well for years to come. We understand the significance of your investment; for this reason, our commitment to customer satisfaction is second to none.
Our Commercial Foam Roofing Coatings
At Cool Roof Solutions, we offer foam roof solutions; one of the latest innovations in the industry. This system brings many benefits compared to traditional roofing materials such as asphalt shingles or metal roofs:
It is lightweight and durable.

It can be used as an insulating material for most buildings, offering unique heating and cooling qualities. 

It's energy-efficient 

It will help you to save money. 

It's waterproof
Commercial foam roofing is much lighter than asphalt shingles or metal roofs, making them easier and faster to install. For foam roofs installations, there are 2 types of materials:
Closed-cell foam 

Open-cell foam 
In addition, Conklin Roofing products are implemented on all our roofs. This is a very high-quality roofing product that has been on the market for over 40 years. It is trusted by many commercial roofing companies nationwide.
Hire Our Services – Guaranteed Satisfaction!
At Cool Roofing Solutions, we're the best roofing company in Sacramento, CA. We're committed to providing the best service at competitive prices. At our company you'll get an 18-year warranty on all products we install, which means you can rest assured that your investment will last long into the future.
At our company, our services include commercial inspections, replacements, repairs, maintenance, and more. When you need a dependable company for your property services, trust the expert foam roofing contractors at Cool Roof Solutions. We offer flexible scheduling and free estimates. Our professionals are committed to delivering absolute excellence and are just a phone call away!
Cool Roof Solutions is one of the leading roofing companies in Chico, California. Our attention to detail and use of a superior product has earned us a reputation. Our product comes backed with an 18-year warranty. Plus, our dependable team has earned us a reputation across Chico. Our services cater to Butte County, Sutter County, Shasta County, and Sacramento County.
Looking for an honest, reliable, and experienced company to handle your roofing needs? Look no further than us!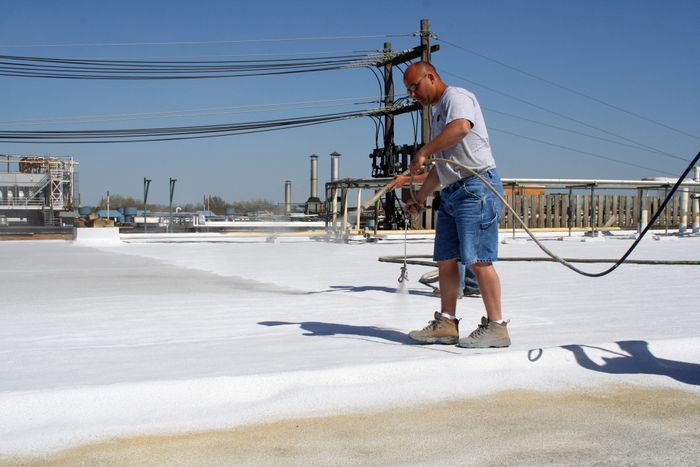 We proudly serve Northern California. If you're not sure we service your area, please give us a call (530) 520-4274.
Here are the areas we service:
CONTACT US NOW AND GET A FREE QUOTE
We provide the right product for your roofing needs.